Spring Conditions!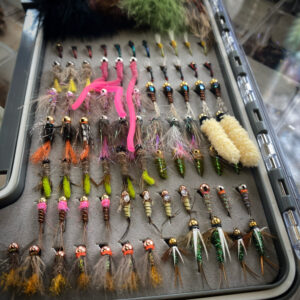 Spring is coming slowly this year,
Update…
Forsyth Reservoir. Acces was barely possible to the boat ramp with a truck yesterday, it's sill covered in ice, it's full and started spilling yesterday, however, there is a lot of run off that is making the stream below very muddy.
Millmeadow reservoir, finally had enough open, ( un-frozen) water at the inlets to fish!
That being said the muddy water coming from The UM drainage has muddied the inlet significantly.
The inlet on the Fremont channel is was still clear as of yesterday but access is still tricky due to snow and mud. Typical still water set ups have been good when the water is clear.
Upper Fremont.
Access is now possible to most of the fishable water, any spring snow fall could change that. Water has been typically clear, occasionally there is some muddy water coming in off the hill sides… fishing is typical here, fish small nymphs and dries.
Bicknell Bottoms,
the flows from spring creek, ect changed channels recently with most of that water coming in near the pheasant pen now, you want to know this, because as big hollow and other drainages continues to run with snow melt it can muddy up the bottoms from the pheasant pen down stream, depending on weather and the amounts of water any given day. Fishing has been pretty slow here.