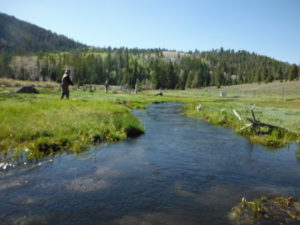 The streams and rivers of Southern Utah are small waters with an abundance of beautiful fish. The Fremont River is the largest river in the area and begins at the confluence of Lake Creek and Sevenmile Creek, flowing down towards the valley where it is joined by UM Creek.
This section is known as upper Fremont, or "up the crick" by the old ranchers in the area. It contains one of the largest populations of wild Brown Trout in the state, and fly fishing the hatches of caddis and stoneflies is an unreal experience that brings anglers back year after year to experience.
The upper Fremont River eventually flows in to Mill Meadow Reservoir where the water is held and used for irrigation for the rich, green farmlands and quaint towns in the valley below.
The Lower Fremont River begins again near the town of Bicknell, where crystal clear springs and small streams join the old river bed in a lush landscape of tules and farmland against an amazing backdrop of red rock bluffs that the Southern Utah area is famous for. This area is known as the Bottoms and has some of the biggest Rainbow Trout and Brown Trout in the area. We have caught several fish in the 24 to 30 inch range, with fish under 14 inches rarely caught. Be warned, though. This area is extremely marshy and muddy, and a place that is not easy to figure out.
Below the Bottoms the river enters private property for several miles. We provide exclusive access to fish the first section of this private water. After flowing through the town of Torrey, the river leaves private property and can be fished below Highway 12 as the river continues on its path towards Capitol Reef National Park.