With the amazing scenery and endless options for chasing trophy sized brown, brook, rainbow, cutthroat, and tiger trout, fly fishing South Central Utah is a fly fishers dream.
Fly fishing Southern Utah Utah waters offers something for everyone, from the beginner to the most advanced, many of the locations are difficult to find and reach,  our guides can help you unlock this beautiful area and the great fishing it offers. we are A licensed, insured, family run guide service.
We love what we do and would be honored if you would join us to fly fish Southern Utah.
Length
Full Day
3/4 Day
1/2 Day
[/vc_column_inner]
1 Angler
$375 full day
$350 3/4 day
$250  half day
2 Anglers
$475 full day
$400 3/4 day
$320 1/2 day
3 Anglers
$550 full day
$425 3/4 day
$350 1/2 day
[/vc_row_inner]
Are you new to the sport of fly fishing?  Would you like to have hands-on instruction helping you understand more about the sport in a friendly environment with a professional instructor?  Our fly fishing lessons would be a great way to get started!
Mike and Debbie run the Quiet Fly Fisher with the help of their 5 kids.
Mike was introduced to fly fishing by his father at a young age when the family used to take trips to Idaho, Alaska, and different places in Utah. His father taught him a great love and respect for nature and a love for fly fishing.
Mike recalls memories of his dad having him practice his casting in the family's swimming pool until he could hit a selected Poplar leaf his dad had picked out.
It was his father's desire, as Mike matured, to run a business that was geared more towards teaching the individual and families a love and respect for the past time that he and his father so enjoyed together as well as his son's experience with the beauties and wonders found in nature.
We are a small yet personal Fly fishing Guide Service for South Central Utah, and work hard to meet all your Fly fishing needs. We fish small streams, rivers, and lakes for great trout. Our love is Fly fishing and we really do enjoy sharing this quiet past time with you.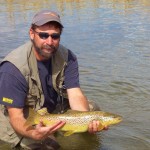 Troy Peterson grew up on these mountains, hunting and fishing with his family and has over 30 years of experience on the Boulders to share. In fact, the first time I met Troy was high on the mountain at a remote lake I was sure I'd have to myself until he came bouncing up the road in an old Toyota truck with his Labrador Retriever.
A retired police officer, he now spends his time hunting and fishing with his kids so they can share the same memories and love for the mountain that he has. Troy started guiding for the Quiet Fly Fisher in 2013 and we are grateful for him. If you are hunting that trophy Brook trout you can be sure Troy knows where it is.