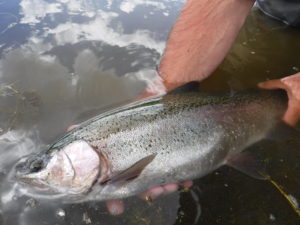 Upper Fremont, has been fishing well, we have been using hopper dropper rigs and picking up some decent fish.
Lower Fremont is off color and the fishing has been slow.
Mill meadow reservoir is full, fishing has been good, the fish are deep now so getting down to them is key, we use double renegades and brown buggers, as well as zug bugs.
Forsyth, the reservoir was completely drained to repair the gate, ( a hydraulic hose went out) lots of fish ended up in the creek below, the reservoir is slowly filling now, I watched it for an hour and did not see any fish rise, (it was just getting really good again this year too.)
Um creek/ seven mile creek.
Fishing has been better on sevenmile, we have been using royal wullf sz12 and Goddard caddis sz 12, UM has been fishing much slower, the fish are holding tight to cover, we have caught some using a Goddard caddis with a small dropper.
Boulder mtn.
The fish have moved to deeper water on some lakes, while cutthroat continue to cruise the shore line looking for small dries, it's kinda slow up there so be patient, colder temperatures this fall will turn the fish back on.
Thousand lake mtn.
The fish are holding deep, we use a full sink line and an assortment of leech patterns and nymphs to catch them.