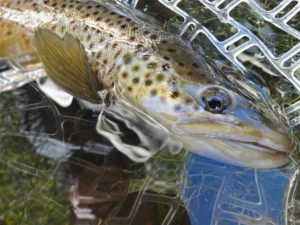 Boulder Mountain.
fishing has really started to pick up!
there is nothing like casting leech patterns, sz 12 scuds and other flashy flies and having huge tigers, Splake, and Brook Trout crush them! It's time to get up on this mountain now! There is still no snow, access is normal rock crawling excitement. Fish.
Thousand Lakes mountain.
october Caddis! Traveling caddis! Huge moth with a orange body that the fish are eating like a real man eats a Taco! They are on both mountains and are working great! We fish both the nymphs and adults. It's fall and the fish are Hungry!
Fish Lake.
I love this lake in the Fall, I only have to share it with 5 people instead of 500, and, well, the fishing just gets dang good! The Splake move in, the Browns move in, the Kokanee move in and  the rainbows eat anything that looks like a egg! Try sinking lines and pulling your favorite streamer pattern! The Kokanee like red! And green! The browns and Splake hammered my olive bugger!
Fremont River.
well the upper Fremont is still off color with water from Johnson, the browns are up in the river! The fishing is tough but a few nice fish are coming to hand. Please don't walk on the reds! That's next years babies your crushing there!
Seven mile Creek.
this creek has been stupid good!
tons of aggressive brook trout hunting down and killing October Caddis! We nymph them also.
again watch for the reds! Don't crush the babies!